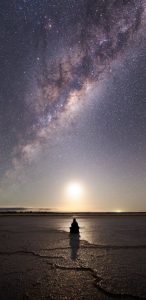 We can consider the Soul to be the RADIANT SOURCE of the life that we experience, both in the here and now, and yet also in all of our other existences.
In this reading, I connect deeply to this Source of yours and let it flow through me and onto the page, capturing its unique nature and energy through profound description, symbols and messages.
Your Radiant Source, or Soul, is a unique spark of Creation. It is infinite and timeless, yet it experences the limitations of both time and space in this mortal life on Earth. This brings about many challenges.
Yet via a reading like this you have the chance to link to your greater nature, connecting to the higher forces and themes operating within your continuing, evolving existence as a Being of Pure Light.
I work remotely to channel the reading, interpreting the nature of your light as it flows through me. Typically a reading is up to 3500 words long, and generally includes:
Descriptions of the nature of your unique light and how it wishes to be known to you, and known to others
Messages direct from your Soul
Key information you need about past or future existences
Insight for opening up more to this greater existence within your current life
Information about any blocks which are getting in the way of your receptivity to enhanced understanding
Guidance from any Beings working with you currently, whether angels, spirit guides or any other advanced souls
Information on your unique Guardian Angel if this is needed
A greater sense of your voyage through the evolution of our planet and the stars of the Galaxy.
Readings can be acccompanied by one of the Guided Essences range, specifically chosen to help you link to this information and open up further to your experience as a Radiant Source on Earth. Once you have ordered your reading/essence combination, I can suggest which particular essence this should be.
Readings are sent as a PDF file via email. They can also be printed and sent to you with the essence, if you order one. Postage to the UK is included within the price.
PAYMENT: Readings can be ordered and paid for below via Paypal, or they can be paid for by bank transfer. Please Contact Me for details. Once ordered I will ask for your birth details (date, place and time if possible) to make an initial link with you when I channel your reading.
ORDER A WRITTEN READING
ORDER A WRITTEN READING PLUS SPECIAL ESSENCE