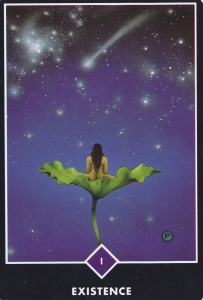 Hello everyone! I hope the sun is shining where you are and that you can feel winter finally losing its grip. Welcome to my first blog entry since going live on Friday 1st March. I had no great plan when deciding to have a blog on my website; I just hoped that whatever I did would provide a bit of inspiration  – for me, as much as anyone else. And although I am in the hands of the healing spirit working through me, and will follow where it leads, I know that many of my posts will include a beautiful and pertinent image to act as a focus for the message that is presented. Oracle cards are my passion, I own about 30 or so different sets, and they have given me an incredible amount of wisdom and guidance through the years. But the one vital thing they do is reflect some aspect of your truth back at you, providing a mirror of great depth and clarity for your life.
The card I have pulled today is my all-time favourite from the Osho Zen Tarot pack. It's called 'Existence', and to me it sums up what is important to me: to visualise my life as a pose of contemplation, sitting on the green body of the living earth, watching the universe unfold around me. This is my card, but it also yours. Life is so hectic, our minds so crazy, and what we have to deal with everyday can be so overwhelming, that we can be left with little to no sense of peace at all.
This can only be found inside us, under the chaos and repetition of our thinking, underneath the force of our adrenalin and other chemicals coursing through us. But it takes a bit of work, a bit of discipline. We have to force ourselves to find some free time, and then we have to take the step of allowing ourselves to let go of the tension and thoughts holding us in their sway. I have meditated most days for years, talking to my spirit guides and healers, searching for my own sense of who I am, finding my own source of peace. But even so, there are days when I just let myself stew in my own remaining mental crazy stuff, running around doing unimportant things, thinking anxious, ridiculous thoughts, until my guides say: "STOP! What are you doing?" And then I remember what they have taught me, and I choose to surrender to the spirit coming through me, and I sit down and let it all go, just for a few minutes, until calm and objectivity begin to return. When you choose to do this, you get clarity on what is important and needs to be done that day, and what is not. Your life does not need to be one long train of mental DOING, but, instead, can have increasing peaceful BEING. And this BEING is not inaction, but surrendering to the spirit, your animating energy, as it comes through you and guides you into an easy flow.
Maybe this all sounds too advanced, too difficult, and needing years of dedication. But even a few moments of peace adds great value to your day, to your life. So why not use this picture, either on your screen, or maybe printed, as your calm focus for the week ahead. This is you, on planet earth, looking at your life and saying: "Here I am. It is OK to be here, it is OK to stop and look at it and wonder about the marvel of life, without having to DO anything. In this moment all I am is 'life being aware of itself'. I am peaceful; I am still. Even if I never do another thing on this earth I know that I am still a vital part of the whole. I breathe; and my breath is part of the rhythmic life of the planet. I love; and that love is a glowing part of the whole. I observe; and I see what is important to me. I see my life."
Helen, 4th March 2013
404