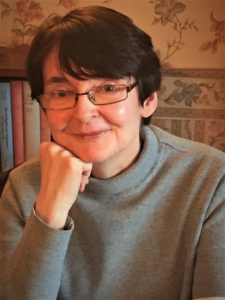 Helen F Ward   Dip. V. MED. (IFVM), BSc Hons
Healer  •  Spirit Journeyer  •  Essence Producer  •  Inspirational Writer
I am a channelling medium, able to communicate with and channel energies from many realms, including that of Earth's spirit guides and spirit healers, and that of angels – particularly those associated with our Sun and other stars. In my work with these higher beings I have 38 essences for use in healing and rapid personal development, almost all of them gifted from the cosmos, from worlds near and yet also very, very far.
I also channel written readings for my clients, profound words aimed at healing the deep divisions and issues within us, and connecting to the soul level for revelations about who we really are at heart and the direction of our mission here on Earth. The guides and healers I work with go straight to the deep nature of any problems and give great insight and advice.
My clients often use my essences, and essence mixes, in tandem with my readings for maximum personal change and benefit. My most recent  creations for this are my solar Loving Embrace essences and my Blue Star Fire essences. The solar ones are each a vibration from out of our own star, aimed at awakening the HEART and opening it to a new level of experience and joy. The Blue Fire essences, however, are designed for a new experience of MIND, and have been gifted from certain blue stars within our galaxy. Each one is an exciting new neural pattern for breakthrough, transcendence and moving past all limitations.
I have also recently consolidated my earlier essences into new groups of six, each with a particular focus. The Deep Connection set provides powerful tools for meditation and the development of psychic talents; Radiant Self brings new, dynamic attributes to the fore; and Embodiment allows our bodies to open up to exciting new energies from the cosmos, anchoring them for use within our daily lives.
Part of my own soul mission is to explore and work with the cosmos, and I became fascinated with the heavens at a very early age – becoming an astrologer and then studying astrophysics at university. My training in essences (a diploma from the International federation of Vibrational Medicine) not only opened me to the wonders of essence medicine, but it opened my higher senses and enabled me to work with people on new and exciting levels, both on Earth and beyond it.
As I continue to develop, I am opening more and more to the star angels who work with the Earth – not only to create essences from out of the heart of stars but also to channel them in my healing work. Star energy is pure and powerful; each star has certain attributes, and a distinct healing spectrum. Each has consciousness and many higher beings very willing to work with us.
Watch this space for more developments!
Helen, January 2017